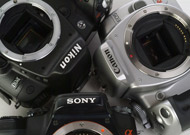 There are choices for the photographer who wants a combination of manual and automatic options in a 10-megapixel sub-$1000 DSLR. In this comparison review, we're looking at the three most prominent cameras – the Sony Alpha A100, the Canon Rebel XTi and the Nikon D80. The Canon and the Sony are both available online for under $900 with a lens and both offer dust removal and reduction features. The Sony has in-camera image stabilization – Super Steady Shot technology that moves the sensor in response to camera shake. The Nikon lacks dust technology and stabilization, but goes for about $1100 with a similar lens (it's under $1000 for the body alone). Is there a separate niche for each of these, or is one simply a better buy?
READ FULL ARTICLE
Added on: Nov 6, 2006 4:00 AM
---

November 6, 2006 – Researchers at Penn State University have developed a tagging algorithm to add text to photos automatically. Called the Automatic Linguistic Indexing of Pictures – Real Time system, ALIPR for short, the picture auto tagging is available at www.alipr.com, launched last week.
READ FULL ARTICLE
Added on: Nov 6, 2006 11:33 AM
---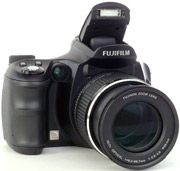 I know what you're thinking: "I just read this review a few weeks ago." It's true that we gave you our first impressions of the Fujifilm FinePix S6000fd from the show floor at Photokina 2006, but this article was written after spending more time with the camera and subjecting it to our thorough testing process. Rather than snapping photographs in the strangely lit overcrowded convention center, we've run the S6000fd through a battery of tests in and out of the studio and taken hundreds of pictures with it. This FinePix comes with a long 10.7x optical zoom lens and a face detection system that is the model's headline feature. The 6.3-megapixel digital camera retails for $499 and has been on the market since September.
READ FULL ARTICLE
Added on: Nov 3, 2006 12:02 PM
---

November 3, 2006 – Apple Computer Inc. released yesterday an update to their photo management software Aperture version 1.5.1. Version 1.5.1 corrects over 100 issues with keywords, loupe, cropping, metadata presets, and iPhoto Library import, among other performance problems.
READ FULL ARTICLE
Added on: Nov 3, 2006 8:44 AM
---

November 2, 2006 –The Federal Court in the District of Delaware ruled in favor of Eastman Kodak Company on Wednesday, rejecting a patent infringement lawsuit brought on by Ampex Corp.
READ FULL ARTICLE
Added on: Nov 2, 2006 1:17 PM
---