Automatic image tagging
Digg This!
If you use an online service to share your photos with the rest of the world, you know that you can annotate your pictures with selected words — or tags. It's an easy work, but imagine a computer doing this for you. This is what Penn State researchers have done by teaching computers to name images by 'thinking.' So far, the system is still limited and has a vocabulary of 330 words. Their ALIPR system — short for 'Automatic Linguistic Indexing of Pictures-Real Time — analyzes an image content and compares it with a database before suggesting possible annotations for your images. I've tested the system: it's fast, but as note the researchers, "ALIPR is like a child trying to learn about the world." Read more…
Here is a short description of the system given by Penn State.
The new system, which can automatically annotate entire online collections of photographs as they are uploaded, means significant time-savings for the millions of Internet users who now manually tag or identify their images. It also facilitates retrieval of images through the use of search terms, said James Wang, associate professor in the Penn State College of Information Sciences and Technology.
There is a little bit of exaggeration here. It doesn't take a long time to annotate your own images. But sometimes you don't do it, and this is where the researchers think they can help.
Major search engines currently rely upon uploaded tags of text to describe images. While many collections are annotated, many are not. The result: Images without text tags are not accessible to Web searchers. Because it provides text tags, the ALIPR system makes those images visible to Web users.
And is ALIPR successful, with its vocabulary of 330 English words? The researchers say that "for 98 percent of images tested, the system has provided at least one correct annotation in the top 15 selected words."
So I've decided to test the ALIPR system which is currently free. It's really easy to use: either you upload an image from your computer, or you give its URL if it's already online. I've only tested the system with a dozen images, so I can't say it's representative. For example, below is a photo of the Fontainebleau Castle near Paris, France. (Credit: personal picture)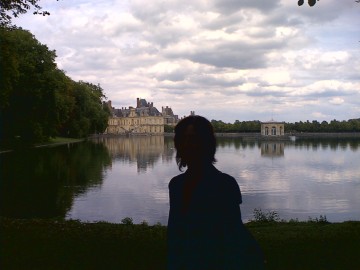 Below is the list of the 15 words that ALIPR associated with this picture. (Credit: ALIPR) As you can see, 8 suggestions were valid. Not bad!

You also can see that I've submitted some other words to the system that I thought relevant. In other words, I've contributed to the training of ALIPR. If enough users do the same for free, ALIPR will become a better tool. And as the researchers already filed a provisional patent on their system, it would not be surprising to hear it would be licensed to a major online player some day for a large amount of money. But after all, don't we live in a 'Web 2.0' era?
For more information about this project, the researchers have published a paper about their system, "Real-Time Computerized Annotation of Pictures" (PDF format, 10 pages, 1.22 MB).
Sources: Penn State University, November 1, 2006; and various websites
You'll find related stories by following the links below.