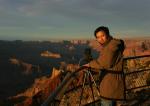 Meet the Professor: James Wang
by: Chris Franklin
When one observes photographs to determine quality, one judges certain values without even realizing them: scene composition, color saturation, etc. At Penn State, these same aspects of photos are scrutinized closely, but there's a catch: humans are not doing it.
James Wang, associate professor of Information Sciences and Technology is well on his way to utilizing computers as a means of judging "good" and "bad" photos.
Wang is one of the main researchers who developed the Aesthetic Quality Inference Engine, known as "ACQUINE," an online system that uses computers to analyze the aesthetic aspects of digitized images.
"What we are trying to do is teach computers what we know about images," said Wang.
The ACQUINE system focuses on a specific image and attempts to rate the image based on concrete aspects such as its composition, color saturation and color distribution. The image is then given a score ranging from zero to 100.
Wang said that the system over time learns to associate aspects that humans view as "pleasing" in photos and incorporate them into its ratings. The system also takes advantage of many photos that have already been reviewed by people on sites such as photo.net.
A demo version, which is free of charge, has been put online and has received hundreds of thousands of submissions from individuals who want their photos rated by ACQUINE. On the other hand, the online demo of ACQUINE has given more favorable ratings to outdoors photography as opposed to photos involving people. Wang sees this as a problem that is going to take some more research to solve.
"For computers to go beyond natural outdoor photography it can become much more difficult," he said. "If your picture has a lot of cultural implications or social implications, it may not work as you may like because this whole research is very new."
This has led to some criticism from users of the ACQUINE online demo.
"We have also gotten criticism, some people send us very nasty e-mails because they don't take natural outdoor pictures, instead they take, say, street scenes of people. The scene is interesting…but then if you just look at it from a pure color, or texture, or shape point of view, maybe you don't think that picture is so beautiful," said Wang.
Wang has stressed, however, that the online demo is nowhere near showcasing the full capabilities of the system's potential.
The associate professor did say that there might be a way to help get around this.
"We are still exploring, trying to find a solution, but of course one thing one can do is to recognize where are the people in the picture and what are the other objects in the picture," he said.
Wang, who is an avid photographer himself, views ACQUINE as way of changing public perception of the computer from a "stupid machine."
"I believe this project [AQUINE] is more like a first step for us to explore into the territory that computers can also have some emotional responses," said Wang.
The associate professor hopes that the system will also be able to function as a learning tool for others in the future.
"One of the things we really like to do is to give people not just a score on your picture, but also to help you to improve your photography capabilities," he said.
Since he first began his undergraduate program at the University of Minnesota, and then later his doctoral program at Stanford University, Wang has been interested in using computers to solve real-world problems. He said that moving to Penn State has allowed him the freedom to combine the things he loves into his research.
"One thing that fascinated me was the fact that IST is really interdisciplinary so you can have the freedom to work on anything you like," said Wang.
At the end of the day, his desire to further the capabilities of computers is what drives him.
"Some people see this work as more like something that will never go anywhere, he said. "Eventually we will get computers to have emotional responses we would like to have."
---
Chris is a junior majoring in journalism and political science at Penn State and an intern with StateCollege.com.
The views and opinions of the authors expressed therein do not necessarily state or reflect those of StateCollege.com.